It's Halloween and this is your favorite time of year. You love this holiday and partaking in the yearly spookiness and trick or treating. If you have a great family pet that likes to go walking with you while the kids trick or treat, why not dress him up as well? We've got some great ideas for you and let's count them down for you.
1. It's a Spider – No, It's a Dog – No, It's a Doggo Spider!
Everyone has seen the great spider outfit that makes your dog look like an enormous spider walking down the street. How creepy is that?? This is the cutest spider that anyone has ever seen. It's especially great if you have a black dog, for the right effect, but any dog can pull it off.
2. Cinderella
Make a pumpkin cart as a costume for your dog to wear and he can accompany your daughter, dressed as Cinderella. A great twist on this one is if your child is in a wheelchair, you can make their wheelchair into Cinderellas Pumpkin coach, and put the dog in a harness looking like a horse pulling the coach. This one is sure to get loads of treats from every door – and hopefully, some dog treats too!
3.  A Traditional Ghost
Using the old white sheet and making your doggo into a ghost is always a good choice. With your dog, you'll need to not cover his head or he may panic. Try using some fine white mesh over his head. It will look white but he will be able to see!
4. A Deer – Rudolph Perhaps?
It's close to Christmas and you can already start finding some Christmas things around. Antlers for dogs to wear will be somewhere if you don't already have some in a box. You can use the red nose or forego that and just make them into a deer. Get creative and make your own antlers for them with a bit of cardboard and elastic. They can be a gazelle!
5. A Canine Cowboy Rider
This one is simple if you own a large dog. A small miniature horse's saddle or a handmade one will work just great. Save yourself some time and go to Amazon and find the Canine Cowboy Rider and you'll be all set and ready to go!  This comes with a tiny cowboy, mounted in the saddle and your dog will look like a mighty steed, racing down the street with his cowboy in control. Let the whole family dress in cowboy attire and make it your theme this year.
6. Chuckie!
This is a costume that you have to buy, it's a Chucky costume for dogs, complete with a bloody knife. It may not be PG-rated, but this costume will get loads of cackles as it looks like your dog is a psychotic little doll, racing toward them with a knife in hand. What a perfectly scary Halloween outfit?
7.  Clown
Dogs can be clowns too! A bright clown outfit and a wig with orange curls will do the trick. This one can also be done with a tie or without. You can get creative.
8. Cowboy Dog
Who says he has to be the horse? If your dog is fine with wearing a hat, a bandana around his neck and a cowboy hat will definitely clue folks into what he is dressing up as. You can play around with this one, using a toy gun belt if you like too. Dogs can be cowboys too, just ask Huckleberry Finn.
9. Walking Panda
This one is made by Frisco and it is the cutest thing you've ever seen. Trust us. It is suitable for dogs or cats and makes them look like a little panda bear walking down the street. Everyone who passes you by will want to stop and pet your 'panda' and the treats will be flowing. Hopefully, they're from Innovetpet!
10. Be a Lion
You can buy a lion's mane and put it on your dog and you'll have an instant lion! This is a very simple and popular costume that looks especially great on dogs like Shar Peis or Mastiffs. Hand your child a hoop and put them in a top hat and you've got instant lion tamer!
11. Prison Pooch is Popular
This is an easy-to-find-costume that looks adorable. Is your dog's face always sad sack? Do you have a pug or a bloodhound? A Bulldogge with a load of wrinkles that make him look like a sad but tough guy? Prison Pooch may be the perfect costume for him.
12. Wonder Woman
Order your dog the Wonder Woman outfit, complete with a star-spangled skirt. She'll be out on the streets, ready to fight crime, keep a watch on the treats, and stealing hearts as she struts down the street, alongside your family. If she's the door greeter, the little ones are bound to want to give her pats on the head and stick around ask about her invisible jet.
13. UPS Pal
We all know that dogs and the UPS mail delivery people have a unique relationship. Many UPS drivers take selfies and post them of the dogs on their routes. We all know the brown truck and the uniform that matches. Now, your pooch can dress like their favorite delivery person, complete with a package in their 'hands' that are a part of the costume, making them look like a human. This outfit even comes with a cool hat.
14. Deadpool Doggo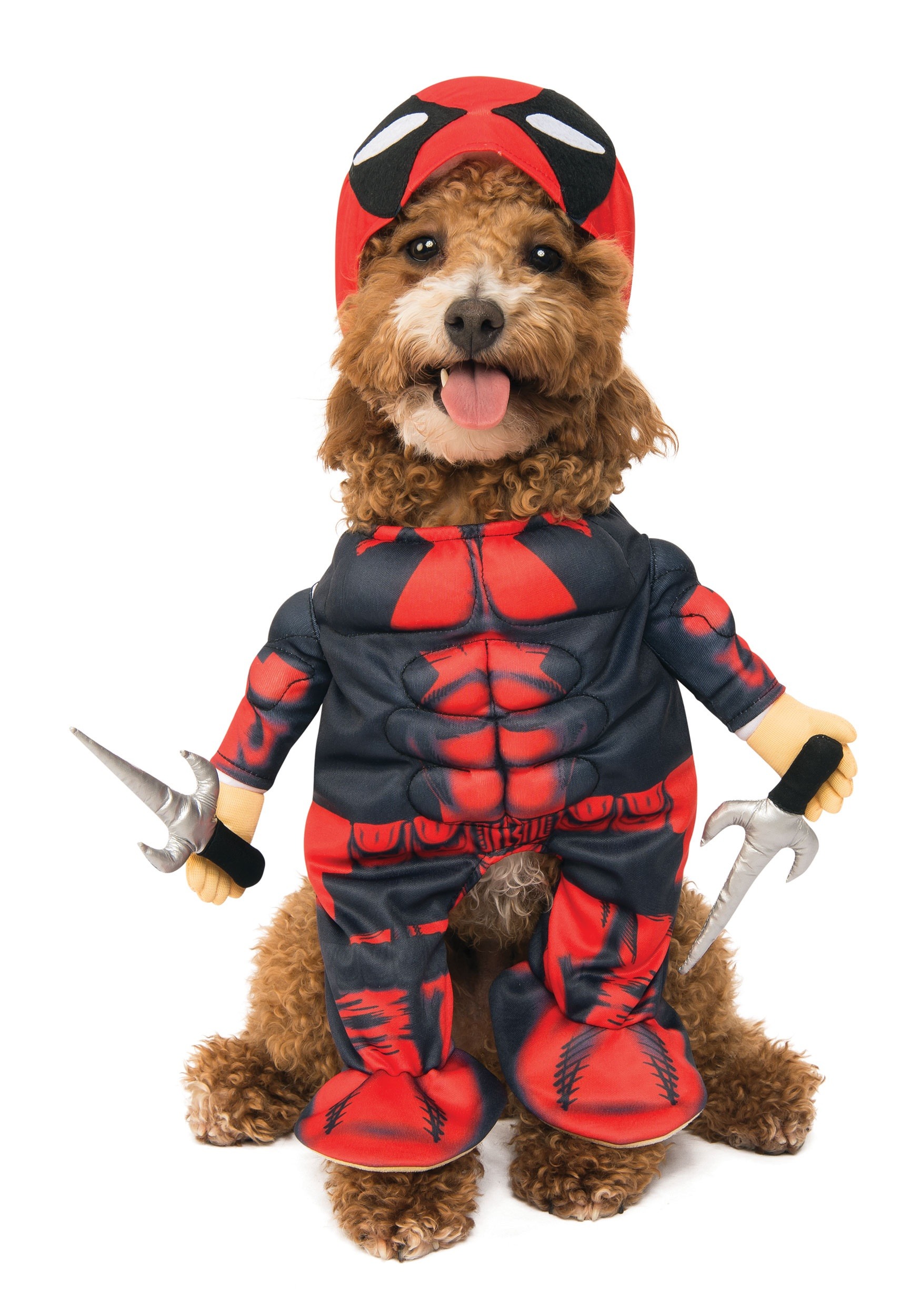 This one is impossible not to laugh yourself silly over. With fighting knives in hand, this outfit is bound to have everyone doubled over in hysterical laughter. It's the most unlikely superhero, it's Deadpool Doggo!
15. Dinosaur Doggo – AKA, Staggering Stegosaurus
Don't worry, he's a plant-eating dinosaur. No need to evacuate the entire neighborhood this Halloween, but he will definitely eat all the dog goodies within his reach. Your pup will resemble a brontosaurus and this outfit will go great in a caveman family theme, or stand on its own.
16. Hotdog, It's the Dog!
An oldie but a goodie, the old Hot Dog costume. It's easy to slip on and makes your dog look like the meat in the bun. It's adorable and it comes with the works – mustard, ketchup, and relish. This one is always one of the cutest dog costumes available readily.
17. Terrifying Triceratops
Another in the dinosaur theme, this is a headpiece that makes it easy for a dog that doesn't mind wearing a hat. There's nothing difficult to try to dress him or her in and they are transformed in ten seconds, making it easy to get ready before the big night.
18. Despicable Me Minion Mutt
This costume transforms your little fur butt into a minion mutt in just two minutes. You can find it on the internet or in local stores that carry dog costumes. It's adorable; a complete look that includes googles as a headpiece that is soft and feels like a hat for the hat-loving doggo in your life.
19. Jedi Master
He will look so cute that Yoda has competition now. This little Jedi Master costume brings Star Wars to life and your pup will look like Luke Skywalker's friend Obi-Wan Kenobi in a flash. It's all one piece, the belt, shirt and cloak slide on in one move. Transform your pup so fast that you'll swear that the force is with you.
20. Little Stinker Skunk
A lot of people to compete with for treats? Dress your dog up as the skunk and perhaps they'll scatter? It's highly likely that they will gather around and want photos of your dog who is perfectly transformed with a white stripe down his back and makes the perfect little skunk on a leash.
---
A Word About Safety
Most of the costumes that are sold specifically for pets are safe, but be sure that you are careful to not cover their eyes or place anything around their necks that are too tight. Your pet should not be restricted in movement and some dogs and cats that are not used to wearing clothing or hats may panic. This can cause accidents to happen in the event that you are out walking in a public place.
It's advisable that you work on socializing your dog for months ahead of time before you take them out in a costume suddenly. If they are not used to people, loud noises, and haven't worn a costume before, it could be very stressful for them.
Do a few minutes of training each day and work on socializing your dog all year long. This helps to ensure that when busy, bustling holidays come around that he is perfectly comfortable with anything that happens, including noises and others in costumes. Remember that a fearful dog can bolt, or worse yet, stand his ground and growl or bite. Take the necessary steps to ensure that your dog is perfectly fine to enjoy the Halloween season as well. Check some amazing Pet halloween costumes from here.
https://blog.entirelypets.com/wp-content/uploads/2019/10/halloween-990721_1280.jpg
856
1280
EntirelyPets
https://blog.entirelypets.com/wp-content/uploads/2017/02/blog-logo-1.png
EntirelyPets
2019-10-08 10:08:30
2019-10-10 09:04:54
Best Halloween Costumes for Dogs